Roasted Vegetables and Chicken Sausage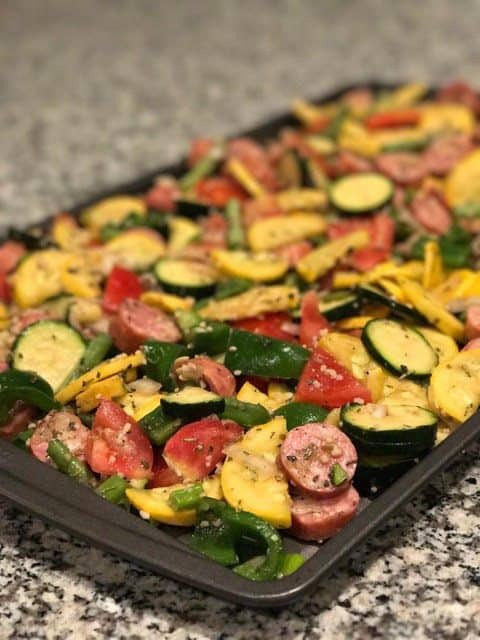 I LOVE vegetables, especially squash and zucchini. I can't seem to get enough. Since I have been pregnant, I haven't been able to keep down many fresh vegetables. So I've had to do primarily cooked vegetables. This is one of my favorite recipes. It is filling and very flavorful.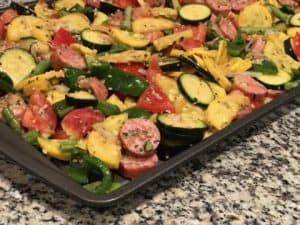 I created this recipe as a good way to get in my vegetables! I love cooking plant based (with a little meat here and there) and my hubby even likes this one, which means it's got to be a winner!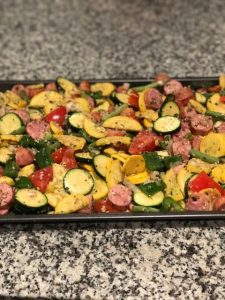 Ingredients
2 medium zucchini
1 large yellow squash
1 large onion
10 asparagus
2 large peppers
3 fresh tomatoes
1 Package organic chicken sausage
SAUCE:
2 tablespoons olive oil
4 tablespoon balsamic vinegar
1/2 lime- juiced
1 teaspoon coconut sugar
2 tablespoons fresh minced garlic
2 tablespoons fresh minced basil
2 tablespoons fresh minced oregano
1 tablespoon fresh parsley
salt and pepper to taste
Instructions
Preheat oven to 425 degrees.
Cut all vegetables and sausage into bite size pieces.
In a large bowl, combine all vegetables and sausage.
In a separate smaller bowl mix all marinade ingredients until smooth. Pour into large bowl with vegetables and mix well.
Once mixed, pour onto baking sheet and spread evenly.
Bake for 1 hour, mixing and turning every 15 minutes.
Let cool for 5-10 minutes. Enjoy!
---
---